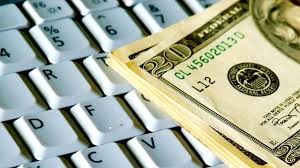 One of the easiest ways of making money online is by selling your unwanted stuff, whether its clothes, a used car or collectible sports cards. You may not become a millionaire by selling online, although it can be an easy way of enjoying some extra income and can be fun too.
Probably the most well known online selling site is eBay, and on here you can sell literally anything. The site really does make the process as simple as possible, offering help with figuring shipping costs, allowing you to compare prices of similar items, and to post photos of your item. In short, everything you need to increase your chances of a sale, including the potential for an eBay store, which offers even more tools and support for online sellers.
CraigsList is another well-known site where you can sell anything, although furniture, household items, and electronics are especially popular. Craig's List also allows you to post pictures of what you're selling and the big advantage over eBay is that you can sell on your local site only, eliminating the need for often costly shipping. And CraigsList also allows you to advertise your services too; if you want to make some extra money editing resumes, gardening, walking the dog, or babysitting, Craig's List is the place to find customers in your area. There are dozens of other sites that allow you to sell a specific type of item only; if you have books, old vinyl records, sports memorabilia or kid's clothing you can find websites where you can sell it.
Several sites offer online tutoring, and if you have a background in teaching, selling your services as a tutor can bring in some extra income. It's also lucrative too; depending on the subject, your experience and where you live, you can charge between $15 and $40 per hour. And it isn't just math, English and science, as online tutors are constantly needed in a variety of subjects. If you can play the guitar, file taxes or understand the basics of Microsoft Excel, you can make money teaching others how to do that. As an online tutor you can work for an established tutoring company, or of course, you can work on a freelance basis. Tutoring online means you can tutor from anywhere where you have an Internet connection and a camera, and you can generally choose your own hours to suit your schedule.
Whether you are selling your expertise in mathematics, your baseball card collection or kid's clothes you no longer need, making money online has never been easier.